Message from the President: Kazuya Kida
Coal is one of energy sources which can be supplied stably and has better cost efficiency than other ones. Japan, a country has low rate of self-sufficiency in energy, is aiming for achieving an energy mix which makes use of many types of power such as thermal power, nuclear power, hydro power, and so on in a well-balanced manner under the wing of its governmental policy. The policy has defined that coal fired power generation is to account for 26% of whole amounts of electricity generated as of FY2030.
In addition to the above, the developing countries are evolving their economy relying on coal as one of their engines, and 30% of global electricity which is to be consumed is expected to rely on coal power.
On the flip side, the Paris Agreement has gone into effect as an international frame work for reduction of greenhouse gases, and each country which has been engaged with the agreement is urge to employ counter measure to combat the global warming.
Taking all the above into the consideration, drastic reduction of gas emitted from coal fired power generation is one of the urgent issue and the most practical answer to make being in line with the Paris Agreement and continual utilization of coal as one of energy sources shake hands.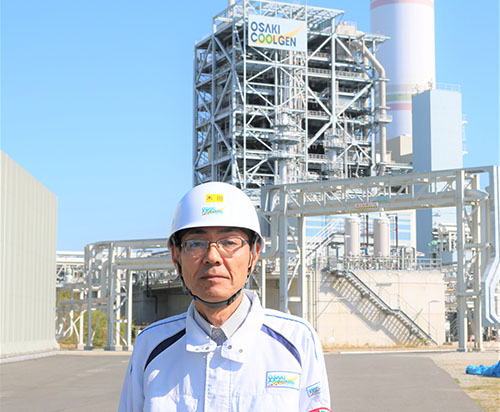 Our company was founded by The Chugoku Electric Power Co., Inc. and Electric Power Develop Co., Ltd aiming for achievement of technologies which lead to drastic reduction of emitted from thermal power relying on coal.
We have been conducting demonstration of "Integrated coal gasification combined cycle" which was commenced from FY2012 when it was subsidized by Ministry of Economy, Trade and Industry and has been supported by NEDO since FY2016.
This project consists of three steps. In the first step, in February 2019, we've achieved the targets of this stage obtaining sufficient performance of an oxygen-blown integrated coal gasification combined cycle(oxygen-brown IGCC) which is a core technology of the integrated coal gasification fuel cell combined cycle (IGFC) that can be the ultimate high-efficiency technology generating electricity with Gas turbine, Steam turbine, and fuel cells. In the second step, we are to conduct the demonstration of oxygen-blown IGCC with capture. In the third step, we will add fuel cells to the IGCC system in order to enhance the efficiency in IGFC with capture.
When our demonstration results will be in practical use, emissions can be reduced by approximately 15% with a commercial scale IGCC plant and approximately 30% with a commercial scale IGFC plant compared to the conventional coal fired power plant. In addition, 90% of emissions can be reduced by applying capture system with IGCC or IGFC.
I strongly believe that our technology can contribute the earth to combat the environmental issues which are permeating all of the world, if it is deployed whole through the world and merchant plants employing the one are to be up and running.
For achievement of the above, our technologies should be proven through the demonstration. To get to the point, we've had our convictions to do all means by necessary.
It would be appreciated if you could show your understanding to our demonstration.
Sincerely
Kazuya Kida
Company Profile
Company name

OSAKI CoolGen Corporation

We named our company with a desire to achieve the Cool Gen Plan that is the clean coal policy of Japan and to showcase clean coal technology to the world from Osakikamijima in the center of the Seto Inland Sea.
Founded
July 29, 2009
Location
6208-1 Nakano, Osakikamijima-cho, Toyota-gun, Hiroshima Prefecture 725-0301
TEL: +81-846-67-5250 (main), FAX: +81-846-67-5251
Capital
490 million yen
Investing enterprises
The Chugoku Electric Power Co., Inc. and Electric Power Development Co., Ltd.
Executives

President and Representative Director

Kazuya Kida

Vice-President and Representative Director

Tetsuo Kikuchi

Director

Haruhito Kubota

Director

Nobuhiro Misawa

Auditor

Tatsuya Tsurumaki

Auditor

Yasushi Uchiyama

Line of business
Conducting large-scale demonstration tests related to oxygen-blown integrated coal gasification combined cycle technology, carbon dioxide separation and capture technology, and fuel cell technology
Project schedule
August 2009 to November 2012 - Implementation of environmental assessment
March 2013 onward - Start of construction work
March 2017 onward - Start of demonstration tests
Location
6208-1 Nakano, Osakikamijima-cho, Toyota-gun, Hiroshima Prefecture 725-0301
See here for access information.