Situation of Energy in Japan
With limited resources of an energy self-sufficiency rate of about 8%, Japan is required to combine and balance various energy sources.
Coal-fired power has high provision stability and outstanding economic feasibility, and is essential to achieve the "3E+S"* energy mix in the energy basic policy of Japan.
*Basic concept of Japan's energy policy, consisting of Energy security, Economic efficiency, Environment, and Safety.
Japan's energy self-sufficiency is just 8%
Among the 35 OECD member states, this is the second lowest level, after Luxembourg.
Primary energy self-sufficiency rate comparison of various countries (2015)
Created from IEA statistics materials (Balances for 2015)
Forecast for Japan's energy mix
Even according to the government's energy supply and demand forecast created assuming participation in the Paris Agreement, coal-fired power is expected to cover 26% in 2030.
METI Long-term Energy Supply and Demand Outlook (July 2015)
---
Coal-fired power has outstanding provision stability and economic feasibility
Compared to oil and natural gas, there are more extensive reserves of coal. It is spread broadly throughout the world, primarily in politically stable nations, and so stable provision can be expected. Furthermore, it is a resource that is less expensive than other fossil fuels and experiences little price fluctuations.
Source: BP statistics, 2018
Source: BP statistics, 2018
Source: Ministry of Finance "Trade Statistics of Japan"
Isn't coal the energy of the past?
No, it will continue to supply the world with electricity.
Coal-fired power stations that use coal with excellent supply stability and economy as their fuel will continue to support electricity around the world, for which demand will grow in Asian countries in addition to Japan in the future, as a base-load power source that can supply electricity stably and at low cost.
Issues with coal resources
While coal has outstanding provision stability and economic feasibility, there is an issue in that emissions of CO2, considered a cause of global warming, are significant, even when compared to other fossil fuels. Reducing the amount of CO2 emissions from coal-fired power generation is the key for global warming countermeasures.
Source: IEA World Energy Outlook 2015
Future of Coal-Fired Power Generation
Demand for coal-fired power generation depends on the region
Approximately 40% of the world's generated electricity is coal-fired, making it the largest rate. Even in Germany, which is pro-actively implementing renewable energy, coal-fired power supports the electricity supply.
While there are movements towards reducing the use of coal, it is expected that increasing populations and increasing electricity consumption will expand the demand for coal-fired power generation, particularly in Asian countries.
Source: IEA World Energy Statistics and Balances (Electricity and Heat for 2016)
Source: IEA "World Energy Outlook 2017," New Policies Scenario
Source: IEA "World Energy Outlook 2017," New Policies Scenario
Adjustment Capability Required for Thermal Power Generation
The key to balancing power supply and demand is in the "adjustment capability" of coal-fired power generation!
As the implementation of renewable energy such as solar and wind power generation expands, there are larger fluctuations in output due to reasons such as the season or weather. By using thermal power generation to adjust the fluctuation in output, the balance of supply and demand can be controlled. In order to further advance the spread of renewable energy, it is vital to have a power source with "adjustment capability."
Source: Agency for Natural Resources and Energy ("Thermal power generation" is essential for expanding renewable energy?! (Japanese only))
The figure was created based on the "Illustration of power demand and generated power" in the link above.
Japanese Clean Coal Technology: Changing the World
Japan, a resource-importing country, is aiming for an energy mix that combines a good balance of thermal power, hydro power, nuclear power and renewable energy to achieve a stable power supply. Of all these resources, Japan has substantial reserves of coal, and given its low cost and stability, there is a need to continue tapping into this resource in the future.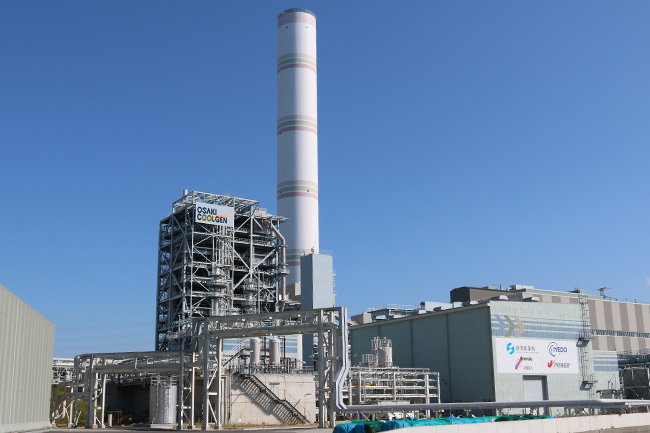 On the other hand, there is an urgent need to develop clean coal technology to enhance the power generation efficiency of coal-fired thermal power and to significantly reduce carbon dioxide emissions in order to combat global warming. Osaki CoolGen Project is a demonstration project aiming to achieve innovative low-carbon coal-fired thermal power generation that combines the ultimate high-efficiency power generation technology of integrated coal gasification fuel cell combined cycle (IGFC) and CO2 capture technology.
See here for details about the OSAKI CoolGen Project's "coal gasification technology!"